Opened in 2008, the Waconia Ice Arena is operated by Rink Management Services Corporation and is the home ice of the Waconia Hockey Association, Waconia High School Boys, and Waconia High School Girls hockey teams.  The Waconia Ice Arena has two meeting rooms that can be reserved for your team gatherings and open skating birthday parties. A concession stand with a variety of food and beverage options is open October through mid-March during hockey games. The Waconia Ice Arena is also the perfect location for area business trade shows, conventions, weddings, graduations and spring sport practices and activities.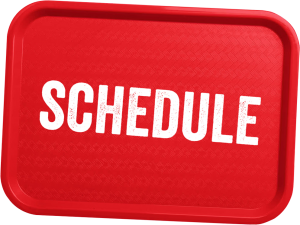 Open Skate Schedule
Mondays: 12:00PM-1:30PM
Wednesday: 12:00PM-1:30PM
Fridays: See Rock on Ice Schedule
Saturdays: 2:30PM-4:00PM
Sundays: 12:00PM-1:30PM
Rock on Ice Open Skate Friday Nights
As the weather heats up, Friday nights are the COOLEST at the Waconia Ice Arena. Grab your skates and get ready to rock out as we turn up the music and turn on our laser light show for an awesome evening of skating fun.
Tot Time Open Skate
Children & Parents are free. Additional charge if rental ice skates are needed.
Check out this awesome opportunity for the little ones to skate with Mom or Dad without the big kids around. Toddlers should be age 5 and under. Ice will be divided in 1/2 with dividers to allow for hockey and skating to take place. Children must be accompanied and supervised by an adult who is on the ice with the child. Be sure to check out some other awesome Tot Time activities throughout the week at the Safari Island Community Center.
Open Skate/Rock on Ice Admission Rates
$3.00 Youth/Seniors                                                                                                    $4.00 Adults                                                                                                              $3.00 Rental Ice Skates
**10 Visit Open Skate Punch Cards are also available for sale**
Youth/Senior: $24.00
Adults: $32.00
Adult Open Hockey
Sundays: 9:45PM-11:00PM
Cost: $6.00/person; max 2 goalies free
**Must be age 15 or older to participate***
**10 Visit Adult Open Hockey Punch Cards are also available for sale**
Punch Card: $48.00
Skate Sharpening Available any time the arena is open.                                                          $5.00 per pair of skates                                                                                              $40.00 for a 10-Punch Sharpening Card
Waconia Ice Arena Sponsorships
The Waconia Ice Arena wants to thank the following businesses & organizations for their support of the Waconia Ice Arena. For more information on sponsorship opportunities, visit us online @ www.waconiaicearena.com.

Waconia Hockey Association
 To learn more about the Waconia Hockey Association teams, events, and hockey programs, visit http://www.waconiahockey.org/.For all Waconia Ice Arena facility cancellations, please note our cancellation policy below: Cancellation 7 days or more prior to the start of the activity
$10 fee would apply to each cancelled hour or time frame of ice
Cancellation 48 hours to 7 days prior to the start of the activity
The fee would be ½ the cost of the cancelled  hour or time frame of ice.
Cancelled less than 48 hours of the start of the activity
No refund